Buy Viagra Online
Get The Generic Version For $2/pill
Why Should You Buy Viagra Online From MyDrHank?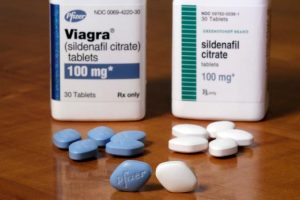 We're glad you asked! Erectile dysfunction has been a problem for men throughout history. ED medications are cutting edge and relatively new to the medical world. Sildenafil was created by Pfizer's pharmaceutical chemists and ultimately patented in 1996. By 1998, it was approved by the FDA & available for commercial sale. Viagra was the first oral ED treatment to be approved by the FDA. The main complaint about Viagra is pricepoint; not surprising for a drug that costs roughly $60 per pill.
The patent allowed Pfizer to reap large profits off this new, expensive ED treatment until it expired in 2020. Enter the world of generic erectile dysfunction medication. Companies aside from Pfizer could now produce sildenafil under their own brand and charge their own price. Charging $60 per pill seemed like a highway robbery to Dr. Hank; we believe that it shouldn't be expensive to get hard. 
The truth is that there isn't any difference between MyDrHank's generic sildenafil & Viagra. There's no chemical difference; MyDrHank's sildenafil should perform just as well as Viagra. Here's where we help- Dr. Hank gets you sildenafil, the active ingredient in Viagra, for as low as $2/pill.
"I'm one of your biggest fans! Your product made a huge improvement in my sex life."

-Stacy
How Do I Buy Viagra from MyDrHank?
We work with Fully Licensed pharmacies to deliver prescription medication to your door in all 50 States.  Our partners are licensed US Pharmacies so our medications are legit, not some cheap knock off from another country. Buy viagra online from MyDrHank and get sildenafil for $2/pill.
Buy Viagra Online: Over 50,000 Men Helped
Since 2017, Dr. Hank has helped over 50,000 senior men buy the generic version of Viagra online. MyDrHank helps you get cost-effective ED medicine and overcome the psychological and emotional barriers to getting treatment.
"That medicine was the Bomb. She was satisfied. The Man Is Still showing Up. Thank You…."
-Mr.Woodward
Is This Legit?
Yes! Dr. Hank works with pharmacies that are fully licensed to ship Sildenafil to your door in all 50 States. We contact your doctor to transfer your prescription, or help you find an online doctor to secure your prescription.
Do Generics Work?
Yes! Sildenafil is the active ingredient in Viagra. If you don't like the results you can cancel your subscription at any time.
How Do I Pay?
Dr. Hank is a monthly drug delivery subscription that you can cancel at any time. You can give your payment information securely over the phone or via our online checkout process. Buy viagra online and get the generic version for $2/per pill.
Do I need a prescription to buy Viagra?
You do need a prescription to bu Viagra generics. If you don't have a doctor, in most states we can refer you to one that will approve you without even needing to leave your home. If you do not already have a prescription, Dr. Hank will work with YOUR physician to see if it is right for you. If you have an existing prescription, we can have your doctor transfer your prescription to MyDrHank for access to our fast, convenient, and discreet refill process.
What if I already take Viagra?
That's okay! If you take Viagra, MyDrHank can contact your doctor to see if the generic version is right for you instead. This will save you money and give you access to MyDrHank's fast, convenient, and discreet refill process.