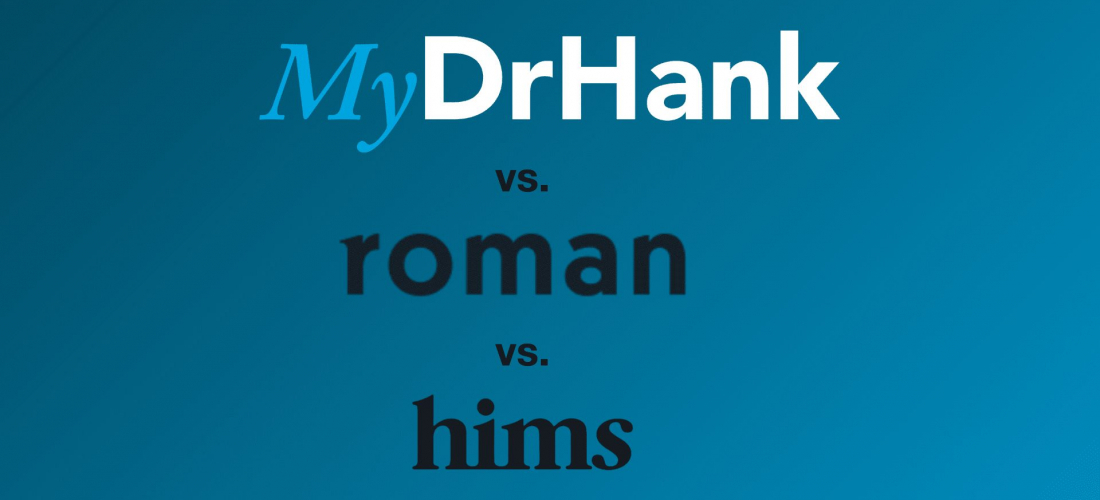 How Does MyDrHank Compare to Hims, Romans, and RexMD?
Erectile Dysfunction affects about 30 million men in the United states alone, and 10% of all men are estimated to have ED at some point in their life. With so many men affected by ED, it is no surprise how many companies currently offer products to help men with the issue.These companies include Roman, Hims, RexMD, Lemonaid, among others.
But there are a few things that stand out to us when we begin to compare MyDrHank with these other companies seemingly offering similar products. Take a look at the list below of why we think MyDrHank is the overall best product for those searching for inexpensive ED medication!
Founded by A REAL Doctor – This is number 1 because it is by far the most important. MyDrHank is founded by a real pharmacist with a Doctorate of Pharmacy from Samford University, the top school of pharmacy in the US. He owns a real pharmacy in Nashville, TN. Dr. Hank works at his pharmacy everyday serving the needs of the local patients in the area as well as shipping medications and serving patients all over the country. A few of the other companies mentioned above were founded, not by doctors, but by entrepreneurs in their 20's who saw an opportunity in the marketplace. Though they may be offering similar products, they do not have a greater understanding of the needs of seniors who are the most affected by ED.
Strategic Simplicity – Some of the above mentioned companies offer a multitude of products that can be overwhelming to navigate through when you are searching for what you need most. MyDrHank offers a few key products that we believe are most needed by our customers. MyDrHank is strategically simple in that we do a few things, but we do them very well. The customer service team is highly trained on these products and can help you decide which is right for you based on your needs. No need to go through a complicated online form, most of MyDrHank's competitors don't even have a phone number you can call. MyDrHank has always offered to simplify the process with an easy call to a real, live person right here in the US.
More Customer Savings – Although each of these companies do offer similar products, a lot of times their monthly subscriptions are much more expensive. Hidden fees and gimmicks of free stuff that always somehow costs more in the end abound with them. MyDrHank is able to streamline the process of getting your medication to make our single orders and monthly prescriptions cheaper for you which means more savings to do the things you love. We will even meet or beat our competitor's advertised pricing.
Easy Accessibility to Customer Service – The MyDrHank customer service team is there for you. If you need help navigating the online form, simply call us up and one of our trained team members can walk you through the process. The best part is, they can work with YOUR doctor. No need to have video chats with a new stranger you have never met in order to get your prescription. MyDrHank can of course help if you don't have a doctor by providing one online, but working with your own doctor gives you the confidence that we are the best of the best. Just let MyDrHank do the work for you to get you up and running.
The Troche – Because MyDrHank is founded by a real doctor, that gives us the ability to create special products in house where other companies can't. A perfect example of this is The Troche. The Troche is a medicated lozenge that dissolves in your mouth. A single dose contains 10mg of Tadalafil (generic Cialis®) & 50mg of Sildenafil (generic Viagra®). The troches allow you to try a combination of two different proven Erectile Dysfunction medications instead of taking multiple pills. We are able to create this medication and perfect it in house with the process being overseen by Dr. Hank himself. Read more about The Troche here
So in your search for ED solutions we hope you keep these things in mind. We truly believe that MyDrHank is the best option for people like you who might be in need of ED medications at a fraction of the cost.